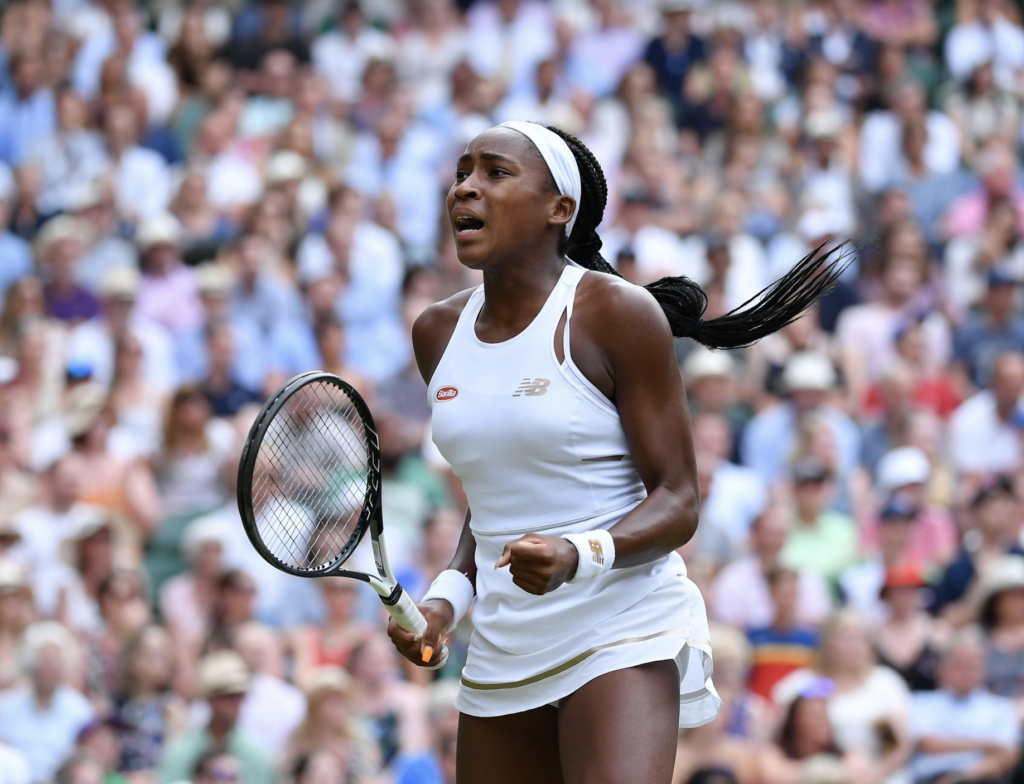 On Wednesday, June 19, 15-year-old Coco Gauff didn't know she would play Wimbledon. Five days before the start of the tournament, the organizers called her to let her know they were awarding her a qualifying wild card. She took the first flight to London.
On Tuesday, June 25, after just a few days of practice on grass courts, she claimed her first career top 100 win in the qualifying first round, upsetting No. 1 seed Aliona Bolsova.
On Wednesday, June 26, she took a science test online at 11pm after her qualifying second round win. Her teachers had found out she was a professional tennis player the day before when they saw her on T.V.
On Thursday, June 27, she became the youngest Wimbledon qualifier in the Open Era — without dropping a set through three rounds.
On Monday, July 1, she stunned five-time Wimbledon champion Venus Williams — her lifelong idol — for her first-ever Grand Slam win. She became the youngest women's player to win a match at Wimbledon since 1991.
On Wednesday, July 3, she was scheduled on Court No. 1 — Wimbledon's second biggest court — again. She proved relentless again in another straight-sets victory against former Wimbledon semifinalist Magdaléna Rybáriková. Her hype level went through the Court No. 1 brand new roof.
On Friday, July 5, she was scheduled on Centre Court for the first time. Down 3-6, 2-5, 30-40 to Polona Hercog, she pulled off a miracle; an Houdiniesque escape; an impossible comeback; a Cinderella story without the stroke of midnight. At dusk, she triumphed 3-6, 7-6(7), 7-5, officially punching her ticket for the Wimbledon second week and smashing the BBC Wimbledon peak audience (5.2 million people to 3.7 for Nadal-Kyrgios).
On Saturday, July 6, she was on the front pages of The Telegraph; The Times; The Guardian; and many other notable British newspaper outlets.
On Monday, June 8th, she faced an even bigger challenge: former world No. 1 Simona Halep, who was, too, at the top of her form. Even though it was Coco's time to shine, she couldn't pull off another miracle. Halep went on to win the tournament, her second Grand Slam title.
Within just 19 days, Coco Gauff experienced what most people don't live in a lifetime.
It took almost her entire lifetime in the making.
At age 9, Coco Gauff moved away from Atlanta to Florida with her entire family to try and emulate her idol Serena Williams, who had just started her collaboration with Patrick Mouratoglou.
The next year, she joined the then Paris-based Mouratoglou Tennis Academy. When the latter relocated on the French Riviera in 2016, she followed suit.
Over the past five years, she grew up exponentially as a tennis player, an athlete and more importantly as a human being.
She's too grounded and humble to admit it, but she's inspired hundreds of student-athletes at the Academy in the process.
And it's just the beginning.