Like in a movie : Stefanos Tsitsipas' Road to the ATP Finals Title
12 February 2020
yann
Uncategorized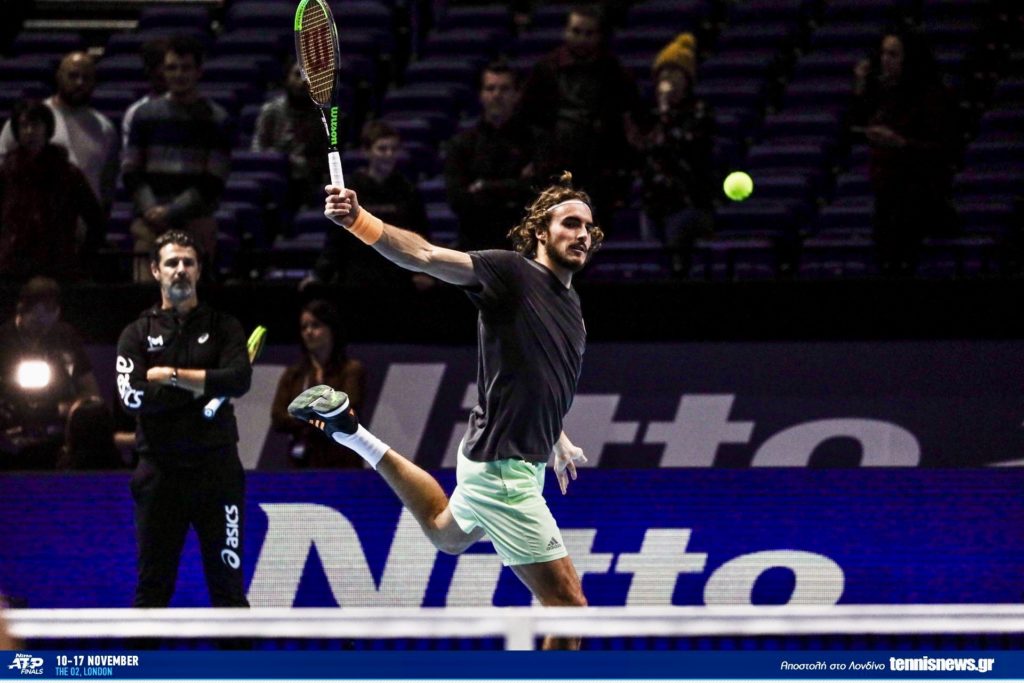 Stefanos Tsitsipas is now comfortably sitting in the ATP's Top 10, as if he had always been there. We seem to forget he was called the "Next Gen Player" before he transitioned to the "Greek God" a few months ago.
His journey resembles a movie script. Let's give it a replay:
The year is 2016 and as one of the world's top junior tennis players, you're invited to London to serve as hitting partner for the end-of-the-year ATP Finals, which gathers the world's best eight professional players of the year. You get to practice with Dominic Thiem — world No.8 and Austria's finest. Your 18-year-old self is impressed, clearly, and you post this on your Instagram:
A year goes by and you're part of the big world now. The ATP just launched a new event called 'Next Gen ATP Finals' — a replica of the ATP Finals, but designed for players aged under 21. You *really* hope to make the inaugural edition, but you end up being just one out. Never mind — you're invited by the ATP to be a reporter at the event, which takes place in Milan. You get to interview your fellow players. You're having fun. For now. They'll see what's coming to 'em next year.
2018. Not only are you making the cut this time, but you clinch the No.1 seed after a breakthrough season that sees you rise — or rather skyrocket — from No.91 to No.15 in the ATP rankings. You should have plenty of reasons to be happy with yourself, but somehow you were hoping to make the 'real' ATP Finals already. You're a competitor, though, a supreme one at that, and you race through the Next Gen ATP Finals title without losing a match all week.
Fast forward to last week. This time, you're part of the big, BIG world. You very deservedly clinched your spot within the top 8 players of 2019, which means you get to come back to London as a player. In a field ever-dominated by the three best players of all time — Federer, Nadal, Djokovic — you're not expected to thrive further than the group stage. But you start off with a win against your nemesis, Medvedev, and suddenly your whole perspective changes and nothing feels too insurmountable anymore.
You then take down defending champion Zverev; battle out with Nadal for about three hours although you're already qualified for the semis; put on a clinic to knock out Federer in straights the next day and make the final… against none other than Dominic Thiem, the same player you were putting on a pedestal just three years ago. Now you're looking at him in the (London) eye.
Your whole Mouratoglou Academy team, bar Kerei Abakar (part-time tennis coach), is here to carry you to glory: Fred Lefevbre (fitness coach), Jérome Bianchi (physio) and Patrick Mouratoglou himself, the man who fell in awe with your potential in 2014 whilst watching a video of you on YouTube.
The final goes to the wire. Third-set tiebreak. Could it really have ended another way? You're going bold and take an early 4-1 lead; blow it; then retake it, 6-4. Match point. You're about to serve to win the event you were once invited at as hitting partner. Someone pinch you right now.
Your serve is unreturned. Your joy is uncontrollable. You fall down to your knees. It's all over — this match, this tournament, this season, this script. At age 21, you're the youngest debutant ATP Finals champion since 1978 (FORTY. ONE. YEARS.)
On the highway to success, most wait for the right exit. But you're taking the Tsitsi-Fast lane.